ECOFRIENDLY TOURIST DESTINATION
The Eco Lodge is about providing an eco-friendly tourist destination on the island of Tinos, using the natural resources of Tinos island in a sustainable manner and creating an autonomous off-grid system for the houses. This means using renewable energy resources such as sun and wind as well as building with local materials, promoting and producing local products, minimizing and recycling our waste and promoting activities connected to the natural environment.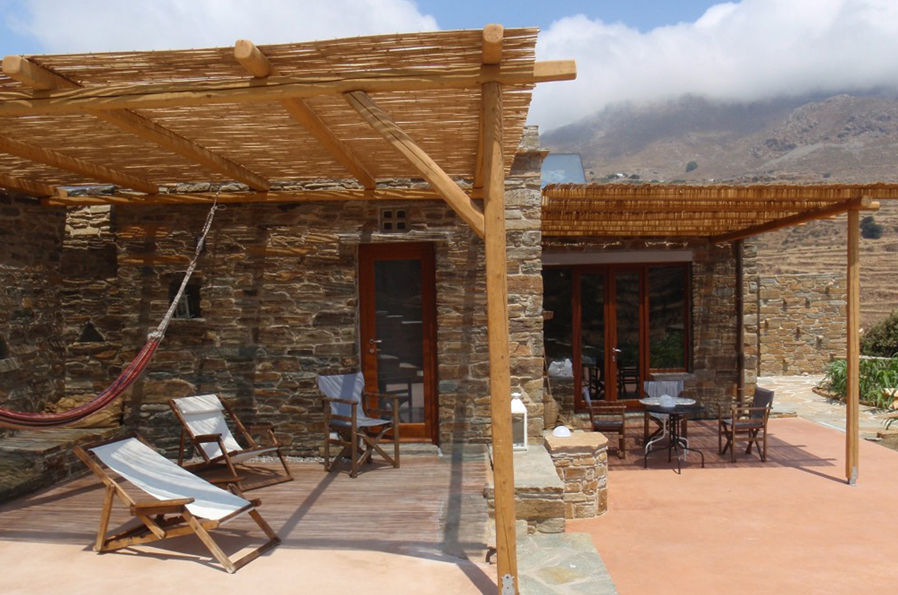 With two private terraces, a large garden in front and a magnificent view of the sea, the big stone house is 65sqm with another 150 sqm outside. There is also a private parking space outside the yard of the house. It has two separate bedrooms, one with a double bed and the other with two single beds. The kitchen has a bed size sofa which provides enough space for another person to sleep on comfortably. The kitchen is fully equipped with a gas oven, fridge and all necessary utensils to cook and prepare meals. There is one bathroom with shower, as well as some basic essentials such as natural soaps. The kitchen opens onto a big terrace in the front of the house with a  garden area, sofas and a dining table. There is also a smaller terrace on the south side which can be accessed from the bedroom.
The small stone house is also has two private terraces, and has direct access to a garden with trees and a private outside sitting area under a mulberry tree. It has an inside area of 45sqm inside and the terrace and garden outside are more than 150sqm. It has a private parking space right outside the yard entrance. It has one bedroom with a double bed and a kitchen bed size sofa which is big enough for another person to sleep on or to provide space for two kids. The kitchen is fully equipped with a gas oven, fridge and all the necessary utensils to cook and prepare food. There is one bathroom with shower, as well as some basic essentials such as natural soaps. The kitchen opens onto a terrace with garden sofas and dining table. There is also another terrace in front of the house looking east giving a great view of the sea and the sunrise!
Staying at Tinos Eco Lodge will be a truly memorable and most certainly a very relaxing experience. From your terrace, which is facing east you have a perfect view of the sunrise as well as a spectacular view of the nearby islands Μykonos and Ikaria. There are two beautiful beaches only 1,5 km away, Santa Margarita and Lychnaftia, that you can easily walk to in about 30 min.
ECO CONCEPT
In order to supply a household with the basic infrastructural needs, we tend to use centralized networks for power, water, waste and sewage. This centralized approach is more suitable in more densely populated areas that are characterized by a short distance from input to output or output to input.
The Ecolodge project plot is far from these kind of supply networks. That's why off-grid solutions became very attractive, on the one hand because we believe that  under circumstances like these they can do a better, cleaner, cheaper and more sustainable job and on the other hand because the location made it an obvious choice.
All these different elements come together to create a highly sustainable infrastructure for modern living.
We implemented: power supply; rain water collection; rain water storage; rain water to fresh water; waste water treatment; composting human manure; use of treated waste water for non-edible plants and trees; natural light design and solar thermal design.
Electric Power
Photovoltaic system and wind generator. The combination of the two different power sources is ideal because of the varying strength of wind and solar radiation throughout the year. Read More
Water
At the Lodges, using the terraces and roofs as well as a big cistern, we can collect and store enough rainwater to supply the needs for 6-8 people through the 4 completely dry summer months. Read More
Solar thermal design
We kept some basic guidelines in mind while designing the houses and the landscape. Read More
Reed-bed system for sewage treatment
The reed-bed system is very effective in coping with usage fluctuation. The purification power is so high it is one of the few systems that allows you to reuse the treated water and it can be designed to be a beautiful part of the garden. Read More
VEGETABLE GARDEN
The Ecolodge organic garden
The vegetation on the plot is mainly wild and very close to one of the few, if not the only old oak forest of the island. So apart from oaks there are also some fig, olive and plane trees which provide shade in the hot season. In our vegetable garden we aim to find and use local seeds and cultivate trees and vegetables that suit the dry and salty environment of the island. We will also use permaculture methods to grow our plants and will start experimenting with transplanting wild local herbs and plants such as thyme, oregano, lavender, sage, artichoke and caper. Our goal is to have a variety of organically grown fruit and vegetables all year round that guests can enjoy picking and planting. Also we want to produce our own olives, herbs, capers, jams and raki.
Plants and Seeds
wild thyme

olives

cherry tomatoes

cucumbers

oregano
---
summer vegetables

tomatoes
cucumbers
eggplants
zucchini
peppers
parsley
artichokes

winter vegetables

lettuce
cabbage
broccoli
cauliflower
spring onions
beetroot
carrots
spinach
rocket

trees & bushes

olive trees
fig trees
mulberries
capers
prickly pear
grapevine
lemon trees
almond trees
pomegranate trees
apricot trees
mandarin trees

herbs

oregano
lavender
throubi (savory)
sage
rosemary
thyme
marjoram

 …