Autumn 2016 Permaculture Design Course
23 September – 4 October (11 days, 72 hours certificate)
Led by Dr. Rod Everett and Mill Millichap
We are excited to announce the first FULL PERMACULTURE DESIGN COURSE (PDC) that will be hosted in Tinos Eco-lodge with two knowledgeable teachers and lifelong farmers from England, Dr. Rod Everett and his colleague Mill Millichap who are teaching permaculture since 1990 in various parts of the world and are coming to Greece and spreading the permaculture philosophy and way of life for the last 5 years.
This PDC is fully certified by the Permaculture Association (Britain).
The Permaculture Design Certificate is a 72 hour theoretical course based on Bill Mollison's Designers Manual, teaching how we can use today's tools and technology to create a more sustainable world. Permaculture is not only about growing vegetables and animals, it is a whole sustainable lifestyle. Permaculture ethics are Earth Care, People Care and Return of Surplus and this is taught by showing students to focus on local resources and their local community, and to have well thought out design practices to create abundance sustainably.
Anyone who wants to bring a big change in his life and way of thinking is welcome to participate. There is no need of previous knowledge of the subject.
At Tinos Ecolodge you will have the opportunity to see stone built houses with local materials, an off-grid system for energy production for the whole lodge which is powered by solar panels, collection of rain water system, reedbed filtration sewage system, indoor compost toilets with the Aquatron separation system, outdoor compost toilets, outdoor kitchen and shower filtration systems and a lot more to be built and learned during the seminar.
Teachers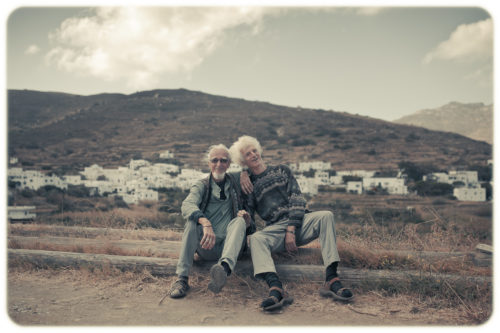 Rod has gained his teaching certificate in 1990 with Lea Harrison who ran a teacher training course and advanced design course in his farm in 1990. This started most of the UK permaculture teaching. Later he participated in a creative teaching course with Skye. This really inspired him and has been the stimulant for his teaching technique. "Whole body learning enables the permaculture principles to become an integral part of your life". www.rodspermaculture.co.uk
His great friend and co teacher Mill brings his knowledge and skill of growing food for many years and living a thoughtful and simpler life. He always adds his wealth of knowledge and enthusiasm for life to their joint courses.
For detail information about the course and which chapters of Permaculture will be covered please go to the following link: Read more about the COURSE OUTLINE
Accomodation and food

Tinos Ecolodge is situated in a beautiful island setting with great sea views and sunrise from the sea, traditional terraced landscape, with a nearby stream and lots of old oak trees to camp under. There is also limited space in the 2 lodges which can host up to 8 people. There will be a communal outdoor kitchen were we will eat all together 3 meals per day, and outdoor showers and compost toilets for those who camp. Max number of participants is 20 people.
Booking and info
Cost: 450euro/tents and 550euro/houses early bird prices if booked until the 10th of July, after that 550euro/tents and 650euro/houses.
There will be also a special price for Greek participants which are suffering from the economic crisis at 350euro early bird – 450euro/tent.
The price includes 3 meals, breakfast, lunch and dinner, 2 field trips, plus the PDC certificate.
A deposit of €100 must be paid on application, full balance to be paid upon arrival. Contact Marilia for more details about the course, booking and the application form.
Download the application form-pdc-2016
Contact details
Marilia Kalouli, info@tinosecolodge.gr
Tel.0030 6974467611