Yin&Yang Yoga retreat with Jens Simon Petersen from Berlin

Dates: 13 – 19 May 2018
About the retreat:
We're hosting a new retreat in May, led by Berlin-based Yogi Jens Simon. Stimulating morning Yoga sessions on our Yoga deck, sprinkled with practical inputs from Yoga philosophy and the principles of Yin and Yang, journaling, meditation in the afternoon and deeply relaxing Yin Yoga sessions at night form the backbone of this retreat. 3 daily vegetarian meals, accommodation either in our stone houses or your own tent, enough time to idle or to take a hike, enjoy the beach or visit the neighbor village make this a recharging and sustainable holiday experience close to nature and with lots of sun.
The 13th of May is arrival day so there will be no classes but an evening meditation.The daily program starts from Monday 14th.
Daily Program:
8:30 Morning Vinyasa (75min)
9:45 Breakfast
Free time
13:00 Lunch
15:00 Input/Meditation/Soft Vinyasa (60min)
Free time
18:00 Dinner
19:30 Yin Yoga (75min)
About Jens Simon Petersen:
As a martial artist and dancer, Jens Simon experienced his first Yoga class in 2009. The New York studio 'Yoga to the people' made a lasting impression with its philosophy to make Yoga available to everyone, regardless of experience or monetary situation, meaning on donation.
Some years later, after trying out different styles, Jens Simon decided to receive his Vinyasa Yoga certification at the same studio – in New York's beautiful East Village – where you can join packed classes on 3 floors, bringing together people of all nationalities, vocations and world views.
Since then Jens Simon has been teaching in New York, Hamburg, Stuttgart and Berlin – in open and corporate classes, personal sessions at different Yoga- and wellness studios, in private homes and even outdoors at Berlin's Tempelhofer Feld in summer.
In addition to his Vinyasa training, Jens Simon has completed a course for Yin Yoga which makes for a valuable contrast to the rather stimulating, flowing Vinyasa style – calming and meditative, focusing on the connective tissues, often compared to an acupuncture treatment – just without the needles.
Jens Simon is excited to offer both styles at his Yoga retreat, together with practical input of indian philosophy and the teachings of Yin and Yang.
Instagram and Facebook, @yogawithjenssimon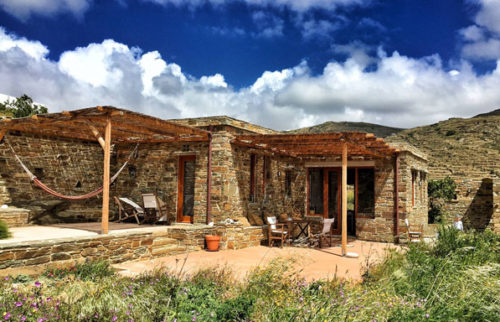 Accommodation: You have the choice of a room or camping. The limited number of rooms have en-suite facilities and there is newly built  toilets/washing facilities for the campers. There are plenty of oak trees to camp under, (please bring your own tent). We are surrounded by green hills and the tranquil blue waters of the Mediterranean – a perfect calm and unspoilt haven to relax and renew.
Food is of great importance to us on our yoga retreats. Ecolodge is a place where the focus is on self-sustainability and working in harmony with nature. Many vegetables and herbs are grown here on-site. We will be providing 3 wholesome vegetarian meals each day prepared by our local cook Ageliki.
-breakfast consisting of fresh fruit/cereals and hot drinks
-lunch – the main meal of the day &
-supper – a lighter meal
(tea, coffee, herbal tea will be available throughout the day)
This retreat is open to all levels of ability. We are a small group (max 12) thus giving us the opportunity to care for and accommodate you in the best way we can.
Cost: The cost for the retreat is 750€ for shared room / 450€ camping
(prices are inclusive of all daily sessions & meals + 1 guided trip)
(prices do not include travel costs / personal insurance)
Booking: First you will need to download and complete the Registration form. Once completed, email the registration form to info@tinosecolodge.gr
A deposit (€250 room / €100 camping) is required to secure your place in the retreat, check the registration form for payment details.  Cancellation is possible until 30 days before the beginning of the course, after that the deposit is not refundable.
Check out the website for photos and further info of where you will be staying and traveling details on how to get here.